One of Malaysia's popular hill resorts is Fraser's Hill. I have gathered below a few sites that will give you a better picture of the resort.
Fraser's Hill, named after a Scottish trader, is a quiet and cool resort that retains colonial charm. Fraser's Hill offers visitors refreshing cool mountain air, an abundance of luxuriant vegetation, peace and tranquility.
About one and a half hour drive from Kuala Lumpur, passing the town of Kuala Kubu Bharu, then drive along a winding stretch right up to the Gap, which is the base of the resort. From here it is 8 km drive to the top of Fraser's Hill by scenic road.
By Bus:
Regular bus services ply from Pudu Raya Bus Terminal, Kuala Lumpur to Kuala Kubu Bharu then to Fraser's Hill. From Kuala Kubu Bharu, the Fraser's Hill bus service operates twice daily -
Uphill at 8am and 12noon and Downhill at 10am and 2pm.
Taxi
Taxi's are also available from Pudu Raya Bus Terminal in Kuala Lumpur.
Source...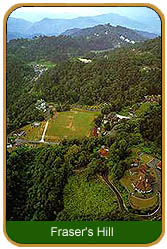 Fraser's Hill nestles quietly at 1,524 meters above sea level, slightly to the north of the Genting Highlands and also in Pahang. The beauty of Fraser's Hill is based primarily on its cool mountain air, its abundance of luxuriant vegetation, and its peace and tranquility--all of which have made it a favored destination for birdwatchers.
While there are many other attractions to be found here, they are all pleasantly complementary to Fraser Hill's tranquil charms. There are jungle trails, waterfalls, and flower nurseries, a very pleasant 9-hole golf course, and a riding stable. Other facilities include a children's playground and a roller skating rink.
For accommodation, Fraser's Hill has a range of hotels, chalets and colonial bungalows to suit one's preferences and budget. The resort is about an hour and a half away from Kuala Lumpur. The road to the hill resort winds for about 35 km after the Gap.
Source...
The architecture of the older buildings are essentially Georgian as it was meant to be a cool retreat from the humidity of the lowlands for the earlier British community when Malaysia was still a colony of the British empire.
Today, it is still a favoured destination for anyone wishing to escape from not only the humidity but also the hustle and bustle of city life. Fraser's Hill is truly an idyllic place for one to rest and to be away from it all.
Source...
At the foot of Fraser's Hill is the Gap - a colonial resthouse and one of the remaining few in Malaysia. A short rest at the Gap Resthouse is a welcome relief..for those who suffer greatly from motion sickness.. A chance to stretch your legs, take big gulps of fresh air and smaller gulps of coffee at the restaurant does wonders. One of the last remaining Resthouses built during the heydays of good old fashioned, unhurried travelling, the Resthouse is a well preserved relic of colonial architecture.
Source...